Our partners at The Active Wellbeing Society have been supporting Represent as we explore how a community heritage project can impact on the health and wellbeing outcomes of participants.
At The People's Heritage Co-operative we believe that connecting people with their heritage – with creativity and curiosity – can have a profound impact on their connection to the world around them. Knowing your own history can help people feel rooted and give a sense of belonging. Sharing important stories is important for individuals and communities alike.
That is why we have been using the '5 Steps to Wellbeing' model in planning our workshops to help participants come away from sessions having had a positive experience which will hopefully boost their mental wellbeing.
Connect
From first meeting our two community groups it has been so apparent just how much participants love going along to regular sessions and just how important those connections with others are. It's been fantastic to bond with members of the groups over tea, biscuits – and even homemade pakoras!
We have been nurturing these relationships through working around the needs of each group – supporting their social activities and encouraging plenty of discussion and sharing of ideas.
Be Active
Exploring on foot is not only a great way to get some exercise, fresh air and see a neighbourhood, it's also a wonderful way to enjoy some informal conversation. Admittedly, one attempt to go for a wander on a windy day was swiftly aborted, but we have enjoyed some ambles around the roof gardens at the Library of Birmingham and Handsworth Park.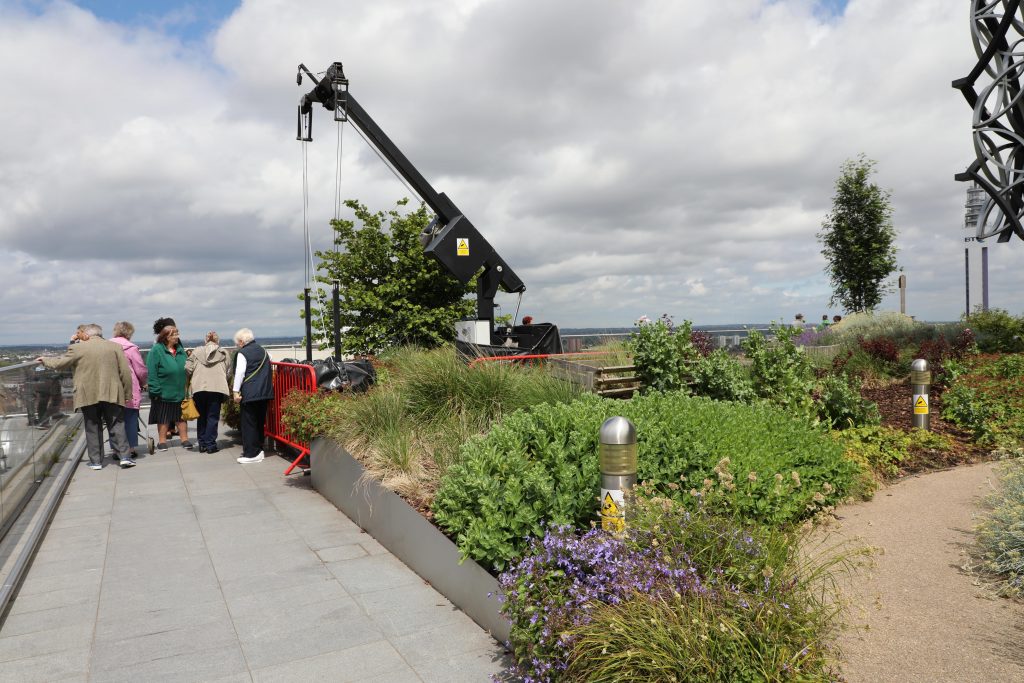 We particularly enjoyed discovering parts of Handsworth Park which we previously knew nothing about. The women from Saheli Hub were so generous with their memories and reflections as we wandered around. Actually being in the Park amongst the trees was so stimulating for us all. We used the opportunity to begin to visualise the space 100 years ago.
Keep Learning
With the eldest participant upwards of 90 years of age, it has been wonderful to see that increasing years have had no negative impact on anyone's curiosity. This part of our project has focused on giving participants new knowledge – the next phase will focus on the groups developing new skills through working alongside a creative practitioner to develop material for a touring exhibition.
Give to others
This project has been all about sharing. There have also been so many valuable contributions – facts about the neighbourhoods we are working in, memories from childhood, connections between the past and the present day. We have encouraged everyone to contribute and this has been met with real generosity. Giving people permission and space to share their memories is one of the best bits of heritage work. These contributions will form part of the final exhibition for Represent in Spring 2020.
Be mindful / Take notice
We have literally been taking some time to smell the roses – and the many other plants in the open spaces we have visited. Our Summer workshops have fortunately coincided with good weather, so we have been taking sessions outside as much as possible.
One highlight has been taking members of Edgbaston Community Group onto the rooftop terrace of the Library of Birmingham. As well as taking in the Birmingham skyline and pointing out familiar landmarks, many of the group were also drawn towards the plants on the terrace.
Are we making a difference?
Planning a project partly around the wellbeing of participants has been really useful for encouraging us to think critically about what participants will come away with. With only a handful of sessions planned for each group, we aren't expecting to make a huge impact on anyone's lives – and anyhow, both groups already access a range of really great activities. But this is a learning project, so we will be seeking feedback from those involved in workshops to try and find out what is working and what we could improve on.
Could we do more?
As we develop the next phase of our project, we would really welcome comments and ideas on what we have done so far. Do you know of other organisations doing great work, or have you benefitted from being part of a community heritage project? Drop us a line at rachel@peoplesheritagecoop.uk.